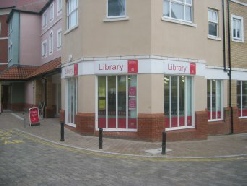 What's On at Rochford Library in April 2020
SCROLL DOWN….SCROLL DOWN….SCROLL DOWN….SCROLL DOWN…. SCROLL DOWN…SCROLL DOWN
To March activities - CLICK HERE
Extras
Book Sale: Every Saturday
Events: Some events don't make it here so look out for our posters.
Book Club: We have a couple of book clubs who gather at the library, usually monthly.
Just ask staff if you wish to join one or start up your own.
Ancestry: We have an experienced volunteer offering monthly taster sessions to introduce you
to using Ancestry Online for FREE. Booking is required, just ask staff.)

What's On at Rochford Library in April 2020
For more information on any of the events contact us on 03330 132 688 or visit www.essex.gov.uk/libraries
All events are FREE unless stated
Sat 4th to 18th Hip Hop Bunny
Celebrate Easter with our fun bunny themed event. Create an Easter basket, search the clues in the carrot trail, hunt the bunny and other craft activities
Tuesday 7th From 10.00am Knit and Natter
From beginner to advanced welcome. Bring along your projects and share your skills and ideas. We work on group projects and individual creations. No need to book, just pop along.
Tuesday 7th 10.00am - 12noon World Health Day
Drop in today to see representatives on hand for advice and general discussion on health and well-being and possibly some freebies
Saturday 14th-18th Love your Library Day
This month's theme is 'I love reading'. We'll have craft activities for children
New Micro:bit Club Every Saturday 10.30-11:30am
Have fun with coding, get creative, get connected and understand how it works using Micro:Bit!
Weekly events for children held at the library
Wishing Well Centre: Baby & Toddler session. Every Tuesday (term time only) 9:45-10:15am.
Stories & rhymes for all young children.
Baby & Toddler: Every Friday (term time only) 2-2:30pm.)
Stories and rhymes for all 0-5yrs - now with music
Block builders Construction Club Every Saturday 10.00-11:30am
Get creative with building blocks. Fun for all children. No booking required.
Weekly training held at the library
Computer Training: Not sure where to start? We can help you to start using a computer. Ask staff for details.
Job Club: Drop in sessions every Friday from 10:30am. Get help the Universal Job Match, applying online & CV's.
Tablet Tuition: Free ½ hour sessions every Thursday morning. Get hints and tips on using your tablet. We can also help with other tech like mobile phones and laptops. Booking required.