Talk to Rochford Life on
0786 342 7294
or
E-mail
us. For numbers for shops, business etc. see page below.


Make a point of visiting us weekly! Tell a friend about us.
London Southend Airport

2. The Present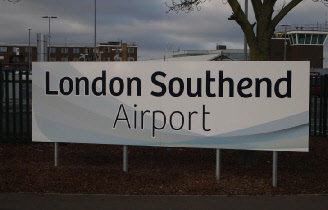 Not everyone has been to the 'new' airport, tucked away some might say behind the 'airport retail park' - and there is a reason it is where it is, and it is worth having a look at. Let the pictures tell the story.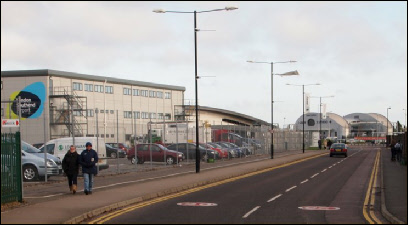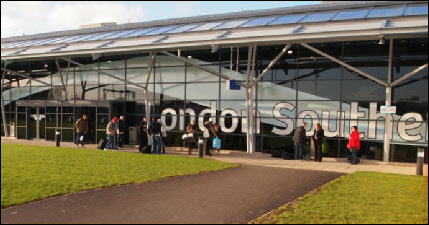 If you are a local and drive to the airport, the road in is unimpressive but...
.... if you are arriving by train there is a much more modern feel which will be even greater when the extension is complete.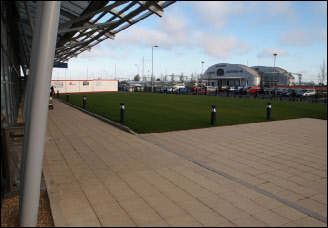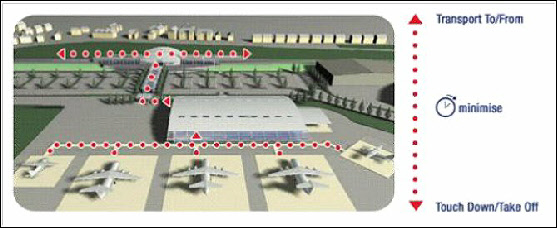 And this is the key to quick travelling - a close link between Terminal & Station - train to plane in minutes!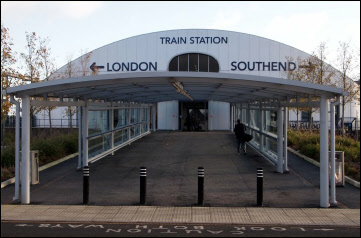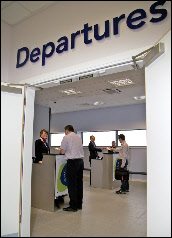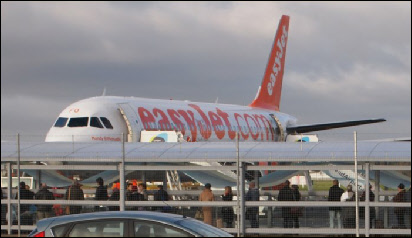 Out of the station, and a minute walk into the Terminal - through Departures - and then queuing to catch your bus, sorry plane!
We found a couple who live in Southend and who recently took a weekend out in Amsterdam via the airport, and asked them what their experience was like. Here's what they said:

"We'd not been before, and we did the obligatory turn up 2 hours early, although in hindsight we really didn't need to be there that at that time. We took the train from Southend Victoria, two stops up to London Southend Airport which takes about 4 minutes - very straight forward. The airport was clean, staff were friendly, everything was well signposted, and we'd already checked in online. We grabbed a coffee in the very pleasant cafe, and joined the queue a little early in order to secure a seat of choice. Again, if you weren't fussed about where you sat, this was quite unnecessary. We took exit seats with some extra leg room, and settled back with our books. The flight took off on time, 35 minutes in the air, and before we knew it, we were in Amsterdam.
We had a lovely time - and the way back was even easier. On the day of our departure (Monday), we got up up 7.15, took a 20 minute walk to the station, a short train journey, short flight, and landed in Southend at around 9.45. I walked through my office door at 10.20am - an unbelievably easy and pleasant experience. I was so impressed with the service, the first thing I did was to 'tweet' at the airport thanking them for the experience. I would not hesitate in recommending flights from Southend Airport."

Well there it is! He wasn't paid to say it; it's a genuine comment.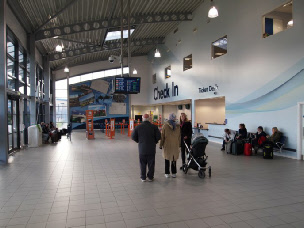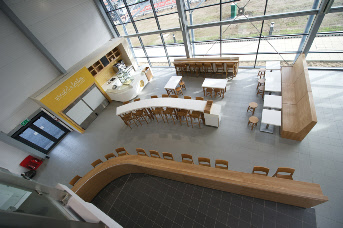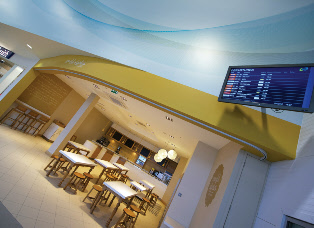 Arriving in the Terminal, there is a sense of space - there is a cafe area at one end - and on 'the other side' the facilities are good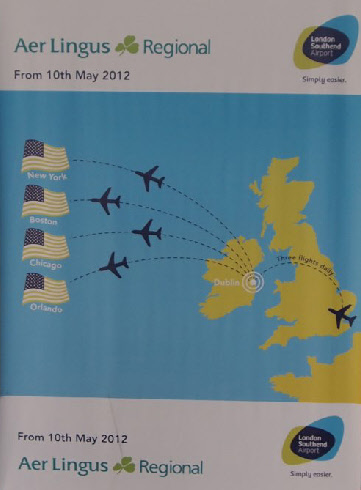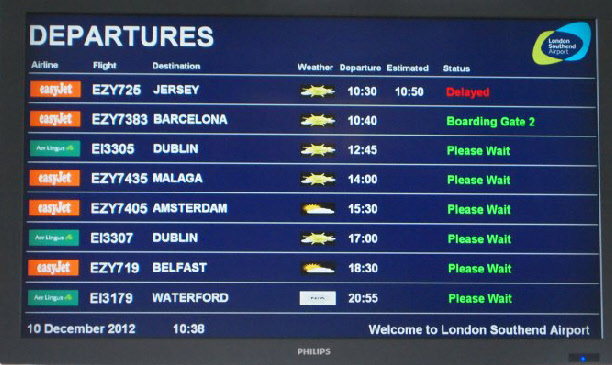 The range of flights out of Southend now opens up a new vista for holiday makers as the departures board recently showed.

The board on the left reminds us that it is now possible to fly to the east coast of the USA on Aer Lingus,via Dublin. The world is getting smaller!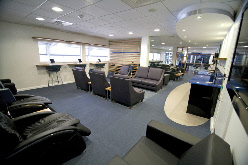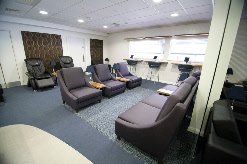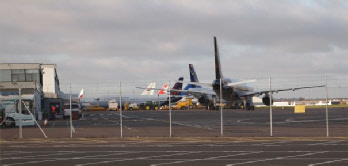 In the 'old' buildings can be found the Business Lounge for private business clients and pilots while outside are private jets or those being serviced etc. by ATC Lasham Ltd.
Quote from an earlier Airport News Bulletin:

easyJet has 70 departures each week to Amsterdam, Alicante, Barcelona, Belfast, Faro, Geneva, Ibiza, Jersey, Malaga and Mallorca - with flights to Geneva starting in December and to Venice in February 2013. www.easyjet.com. Aer Arann also operates up to 10 flights per week from London Southend to Waterford (www.aerarran.com). Aer Lingus Regional, operated by Aer Arann, has three daily return services between London Southend and Dublin, where travellers are able to take advantage of transatlantic connections to New York, Boston, Chicago and Orlando (www.aerlingus.com).

Meanwhile the airport is also used by private operators: