Talk to us here at Rochford Life :
0786 342 7294
or
E-mail
us. For other numbers see individual pages.


Make a point of visiting us weekly! Tell a friend about us.

To return to front 'Growing Stuff' page, please CLICK HERE
13. Ten Things I've learnt as an amateur gardener

As we have said from the outset of these 'Growing Stuff' pages, these articles are dedicated to those who have 'some land' (it may be a window box or it may be three acres) but who have little confidence in calling themselves 'a gardener'. These pages are expressly to encourage YOU. This is at your level. Why do I write? Because I love my garden. Put aside my early years, after we were married we had a pocket handkerchief size garden and while it gave us great delight it took all our energies to keep it under control. Then we moved and, without intention, found ourselves with a three hundred foot plot and here we have dabbled for over three decades. Along the way, I've become aware of certain things and I dare to think that just maybe they might be of some help to you who have little confidence. This page is dedicated to my three children who in varying ways show interest in Growing Stuff. Here are some of the things I have learnt:
1. You don't have to be an expert to enjoy your garden

Awareness is, I believe, one of the greatest characteristics you can cultivate and when you do you will find it harvests for you immense pleasure. Without going out and looking at it, how would you describe your garden? What is actually in it? How does it change through the seasons? Who uses the garden apart from you? (all the creatures I mean, not the family!). On the right is a picture that you can hardly make out - and I've left it like that because that is how it is in my garden, a tiny self-seeded pair of viola. We don't have any growing in the beds at the moment but when we did, some seeds decided to stake a claim in a crack in the path, and there it is, a beautiful little flower you need to bend down to see properly. A tiny little thing, but I love these things that turn up of their own accord and add colour and beauty. I have a yellow poppy that seems to seed and then die and so it seems to move around the garden in different places. What fun!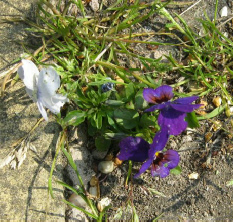 2. If at first you fail, try, try again.

Even the experts have plants dying on them, and there are a number of reasons why it may happen, but don't be put off, find out why and try again. Sometimes I've found that my ground is not uniform and so a plant may struggle in one place but when I've moved it, suddenly it flourishes. It may be because is likes more/less sunshine, or it may be the soil wasn't good for it where it was originally.

3. Be patient

Trees especially, it seems, need time to develop. I once had this acorn and casually pushed it into a bed near the bottom of the garden. With the passing of years the bed has given way to lawn and the oak tree, which seemed determined to stay a small sapling for a number of years, has suddenly taken off and assuming I'm around long enough I'm looking forward to sitting in its shade. On the left, there it is after a number of years growth in 2009. Four years on it is now double that size. It's going to be a beautiful tree one day (OK it is already!!) But this may apply to a number of plants, bushes especially I've found.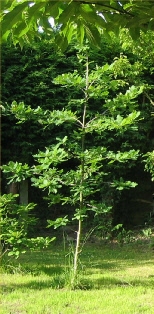 4. Think and Plan in the long-term

OK, you may be someone who has to move with a job on a fairly regular basis, but if there is any hope of you being where you are now in ten years time, think long term. As I said above we've been in our present garden over three decades; we never thought we'd stay here! But the other day I sat near the bottom of our garden and thought, "What is amazing is that 99% of what I can see wasn't here when we moved in." There were three trees that I was looking at in particular, that are now large and mature. They came as 'freebies' a long time back when I was given some coupons in a motorway station cafe that offered free saplings. They cost me the price of postage I seem to remember, but now they are of immense beauty. Think long term! Years ago the bottom was a wild area open to the rest of the garden. At some point (lost in the memories of time) I planted what has become a solid hedge with an arch opening in it. Beyond it is the area the grandchildren call 'the jungle', not because it is wildly out of control but because it's sheltered by trees and has a dark and mysterious feel to it. But hedges and areas don't grow overnight. Think long-term!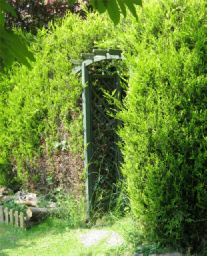 5. Soil Quality is Important

If you have heavy clay, ether find out what plants like that, or work on breaking it up. However, the big issue is the nutrients in the soil and the best you can do is have a compost heap. At the moment I have two compost bins and one wormery. You'll find articles about this elsewhere on these pages but if you want to boost your plants, boost the ground and well-rotted compost material is by far the best additive. If you add the occasional bag of horse manure from a local stable, recognise you'll need to leave it in the bin well mixed in with other materials for at least a year. If you find yourself with chicken manure, watch out, it is lethal unless you really let it mix with other stuff for an even longer period. If you like slow worms, be careful how you turn the compost material over in the summer; they love the warmth there. We have a really big one inhabiting one of our bins at the moment and occasionally you'll seem him (?her) sunning themselves - beautiful!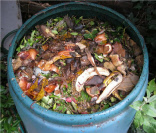 This wormery outside our back door takes kitchen waste and produces the most incredible compost material for the garden.
6. Enjoy the Wildlife

Having just mentioned our current slowworm, it's only natural we move on to think about the shear wonder of all the creatures that visit - and you'll have little say in who comes, but the environment you create can influence the passers by. Log piles, bat boxes, wild grass and nettles left to grow, are all habitats that help the garden wildlife. If you want to know how it helps your garden, read Monty Don's quote on this, on Page 5 of our 'Growing Stuff' pages. It's a good quote. That Page 5 is about wildlife so we won't expand on it here.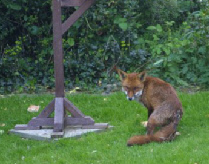 7. Experiment and Play with your Garden

Some people get too serious about gardens and gardening. I like trying stuff out. The other year I gave over a small area to create 'a meadow' using a couple of packets of wild flower seeds. It was a wonderful riot of unusual plants and colours. I left it exactly as it was at the end of summer to see if it would self-seed and repeat the act the next year. About 30% seem to have survived, but it was fun trying.

Having written about water features on these pages a while back, the natural thing to do was try one out. We bought a small rigid preformed liner, filled it with water and plants and left it to see what would happen. A couple of frogs turned up but then left. At the moment my wife, who has turned into a pond watching addict, tells me that we have nine toads, six tadpoles and four newts occupying this small three foot long pond. OK, you guys, out you get, there are slugs to be eaten!

I have a feeling it's about time I started recreating a rockery. Haven't done that for about twenty years!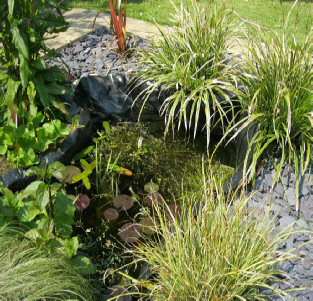 8. Think about Cost realistically

OK, plants aren't always cheap, though one of our articles does talk about gardening on the cheap, but there is a bigger issue here. How many of our readers, I wonder, smoke or drink alcohol - two expensive habits? How many go and get a takeaway, Chinese or Indian, or for that matter go out for a meal? How many have bought an extra pair of shoes, a new handbag, or whatever? The fact is that we spend money on things that, so often, are gone in a moment or last only a short while. I would hate to think how much - over the years - I have spent on our garden, but this I know - the end results are still there to see and those results bring me and many others a great deal of pleasure. Gardening, as we've suggested elsewhere, is possibly one of the most therapeutic things you can do. You can't put a cost on the mental and physical health it brings. Go on, invest in your garden, invest in your health.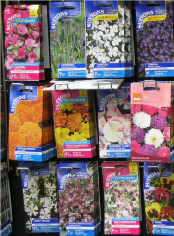 9. Start with what you like

Are there flowers, bushes, shrubs, trees, plants of whatever sort that you particularly like? Pander to yourself and focus on them and as you produce them and feel good about them, they will produce confidence in you to go on to other stuff. For instance I love ferns and, having a whole side of the garden shaded by a tall hedge, they are the obvious things to grow - and there are lots of sort of fern. That's a lot of different forms of green with different foliages. They are wonderful!

When it comes to colour I'm a 'cool' colour person and I love the blues that fill our garden in the Spring. Aquilegias are probably my favourite flower with their beautiful delicacy and of course they tend to self seed and appear all over the garden in the most unexpected of places, and you can get many more colours than the traditional blues or pinks.

For striking shape, colour and variety, the Iris is my next favourite.

Grow them, collect them, get excited by them.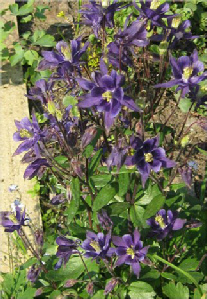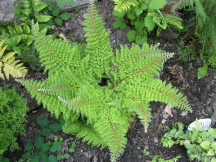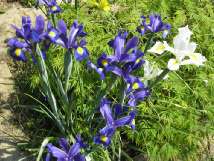 10. You've just got to do it

Whether it is growing seeds, taking different sorts of cuttings, putting in bulbs, designing 'projects' for your garden, you've just got to get on and do it! So much more we could have said, but this should be enough to encourage you. Start, try stuff, experiment, play, try different things in your garden, enjoy it, do more of it, learn more, do more; this is what gardening is all about!

Top of page